designed to deliver the purest
OUR PRODUCTS
Carbon Nanotubes
Nanodiamonds
Nanoceramics
Non-oxide Nano Ceramics Blends
Quantum Dots
Nanometals
Phosphonic Acid Derivatives
CdTe Quantum Dots, powder, hydrophilic
Luminescent inorganic nanocrystals (Q-dots). The emission wavelength is a function of the crystal size -crystals of the same chemistry can have the emission maxima in a wide range.Easily forms colloidal solutions in water. Terminated with -COOH group.Ideal for labeling purposes. Coupling with -NH2 groups can be achieved through EDC-mediated esterefication.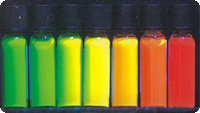 General labeling procedure for proteins :-
(adopted from Wang et al. Nanoletters 2002, vol. 2, No. 8, 817-822):Reaction mixture containing 0.1 µM/mL CdTe quantum dots, 2 mg/mL protein, 1 mg/ mL sulfo-NHS (CAS# 106627-54-7), 10 mg/mL EDC (CAS# 25952-53-8) in pH 7.0 PBS buffer is prepared and stored for 2-4 h at room temperature and then stored at 4°C overnight.The precipitate (unconjugated Q-dots) if any is removed by centrifugation. The stock of ready-to-use product should be stored at 4°C. Optionally it can be dyalized on a membrane with MWCO of 12000-14000 against pH 7.0 PBS buffer and stored at 4°C. Emission wavelength may slightly shift after labeling procedure..
Properties
610 ± 5 nm λ emission maximum. Particles molar weight ca. 81000 g/mol
Pack Sizes
| | |
| --- | --- |
| Catalogue No. | Quantity |
| RN -PL -QDN-610-5mg | 5mg |
| RN -PL -QDN-610-10mg | 10mg |
| RN -PL -QDN-610-25mg | 25mg |
| RN -PL -QDN-610-50mg | 50mg |
Properties
620 ± 5 nm λ emission maximum. Particles molar weight ca. 88000 g/mol
Pack Sizes
| | |
| --- | --- |
| Catalogue No. | Quantity |
| RN -PL -QDN-620-5mg | 5mg |
| RN -PL -QDN-620-10mg | 10mg |
| RN -PL -QDN-620-25mg | 25mg |
| RN -PL -QDN-620-50mg | 50mg |
Properties
630 ± 5 nm λ emission maximum. Particles molar weight ca. 89000 g/mol
Pack Sizes
| | |
| --- | --- |
| Catalogue No. | Quantity |
| RN -PL -QDN-630-5mg | 5mg |
| RN -PL -QDN-630-10mg | 10mg |
| RN -PL -QDN-630-25mg | 25mg |
| RN -PL -QDN-630-50mg | 50mg |
Properties
640 ± 5 nm λ emission maximum. Particles molar weight ca. 90000 g/mol
Pack Sizes
| | |
| --- | --- |
| Catalogue No. | Quantity |
| RN -PL -QDN-640-5mg | 5mg |
| RN -PL -QDN-640-10mg | 10mg |
| RN -PL -QDN-640-25mg | 25mg |
| RN -PL -QDN-640-50mg | 50mg |
Properties
650 ± 5 nm λ emission maximum. Particles molar weight ca. 103000 g/mol
Pack Sizes
| | |
| --- | --- |
| Catalogue No. | Quantity |
| RN -PL -QDN-650-5mg | 5mg |
| RN -PL -QDN-650-10mg | 10mg |
| RN -PL -QDN-650-25mg | 25mg |
| RN -PL -QDN-650-50mg | 50mg |
Properties
660 ± 5 nm λ emission maximum. Particles molar weight ca. 111000 g/mol
Pack Sizes
| | |
| --- | --- |
| Catalogue No. | Quantity |
| RN -PL -QDN-660-5mg | 5mg |
| RN -PL -QDN-660-10mg | 10mg |
| RN -PL -QDN-660-25mg | 25mg |
| RN -PL -QDN-660-50mg | 50mg |
Properties
670 ± 5 nm λ emission maximum. Particles molar weight ca. 124000 g/mol
Pack Sizes
| | |
| --- | --- |
| Catalogue No. | Quantity |
| RN -PL -QDN-670-5mg | 5mg |
| RN -PL -QDN-670-10mg | 10mg |
| RN -PL -QDN-670-25mg | 25mg |
| RN -PL -QDN-670-50mg | 50mg |
Properties
680 ± 5 nm λ emission maximum. Particles molar weight ca. 146000 g/mol
Pack Sizes
| | |
| --- | --- |
| Catalogue No. | Quantity |
| RN -PL -QDN-680-5mg | 5mg |
| RN -PL -QDN-680-10mg | 10mg |
| RN -PL -QDN-680-25mg | 25mg |
| RN -PL -QDN-680-50mg | 50mg |
Properties
690 ± 5 nm λ emission maximum. Particles molar weight ca. 160000 g/mol
Pack Sizes
| | |
| --- | --- |
| Catalogue No. | Quantity |
| RN -PL -QDN-690-5mg | 5mg |
| RN -PL -QDN-690-10mg | 10mg |
| RN -PL -QDN-690-25mg | 25mg |
| RN -PL -QDN-690-50mg | 50mg |
Properties
700 ± 5 nm λ emission maximum. Particles molar weight ca. 177000 g/mol
Pack Sizes
| | |
| --- | --- |
| Catalogue No. | Quantity |
| RN -PL -QDN-700-5mg | 5mg |
| RN -PL -QDN-700-10mg | 10mg |
| RN -PL -QDN-700-25mg | 25mg |
| RN -PL -QDN-700-50mg | 50mg |
Properties
710 ± 5 nm λ emission maximum. Particles molar weight ca. 200000 g/mol
Pack Sizes
| | |
| --- | --- |
| Catalogue No. | Quantity |
| RN -PL -QDN-710-5mg | 5mg |
| RN -PL -QDN-710-10mg | 10mg |
| RN -PL -QDN-710-25mg | 25mg |
| RN -PL -QDN-710-50mg | 50mg |
Properties
720 ± 5 nm λ emission maximum. Particles molar weight ca. 230000 g/mol
Pack Sizes
| | |
| --- | --- |
| Catalogue No. | Quantity |
| RN -PL -QDN-720-5mg | 5mg |
| RN -PL -QDN-720-10mg | 10mg |
| RN -PL -QDN-720-25mg | 25mg |
| RN -PL -QDN-720-50mg | 50mg |
Properties
770 ± 5 nm λ emission maximum. Particles molar weight ca. 900000 g/mol
Pack Sizes
| | |
| --- | --- |
| Catalogue No. | Quantity |
| RN -PL -QDN-770-5mg | 5mg |
| RN -PL -QDN-770-10mg | 10mg |
| RN -PL -QDN-770-25mg | 25mg |
| RN -PL -QDN-770-50mg | 50mg |
Properties
780 ± 5 nm λ emission maximum. Particles molar weight ca. 1000000 g/mol
Pack Sizes
| | |
| --- | --- |
| Catalogue No. | Quantity |
| RN -PL -QDN-780-5mg | 5mg |
| RN -PL -QDN-780-10mg | 10mg |
| RN -PL -QDN-780-25mg | 25mg |
| RN -PL -QDN-780-50mg | 50mg |